Better late than never!  I do this tag every year so I couldn't let it pass me by.
2017 | 2018 | 2019
Question 1 – The best book you've read so far in 2020
I mean… the Complete Works of William Shakespeare will be my top 'book' of 2020 and you all know that.
The only two novels solidly in with a chance of making my top 10 (god I need my reading to pick up in the second half of 2020 or that top 10 is going to be so bleak) are The Glass Hotel by Emily St. John Mandel and Hamnet by Maggie O'Farrell.
Question 2 – Your favorite sequel of the year
N/A – I haven't read a sequel.
Question 3 – A new release that you haven't read but really want to
SO MANY but toward the top of my list are these three: Real Life by Brandon Taylor (getting to attend his book tour in LA was a wonderful experience!), Luster by Raven Leilani (I don't think this is quite out yet but I have an ARC, and I have heard NOTHING by good things), and Swimming in the Dark by Tomasz Jedrowski (I don't have a copy yet, but it sounds ridiculously up my alley).
Question 4 – Most anticipated release for the second half of the year
The Bass Rock by Evie Wyld, The Harpy by Megan Hunter, and Snow by John Banville.
Question 5 – Your biggest disappointment
The Illness Lesson by Clare Beams, Saltwater by Jessica Andrews, Topics of Conversation by Miranda Popkey.  Bad, worse, disappointing.
Question 6 – Biggest surprise of the year
Tender is the Flesh by Agustina Bazterrica – surprising in every sense of the word.
But honorable mentions to Kim Jiyoung, Born 1982 which I expected to like in a lukewarm 3.5-4 star kind of way but which I was actually blown away by, and Hysteria by Jessica Gross – another legitimately shocking read.
Question 7 – Favourite new to you or debut author
T Kira Madden, Kate Elizabeth Russell, and Naoise Dolan are all authors I'd love to read more by (and Jessica Gross, from the last question).
Question 8 – Your new fictional crush
As always, pass.
Question 9 – New favourite character
Constance from King John.  Getting to play her on Zoom has been one of my absolute highlights of the year.  She's fierce, savvy, prideful, intelligent, and is the absolute heart and soul of this play – despite the fact that she has NO political power she sets the whole thing in motion and then is the one to most acutely suffer the consequences and has some of the most heart-rending monologues in all of Shakespeare ("grief fills the room up of my absent child").  Also, THIS!!!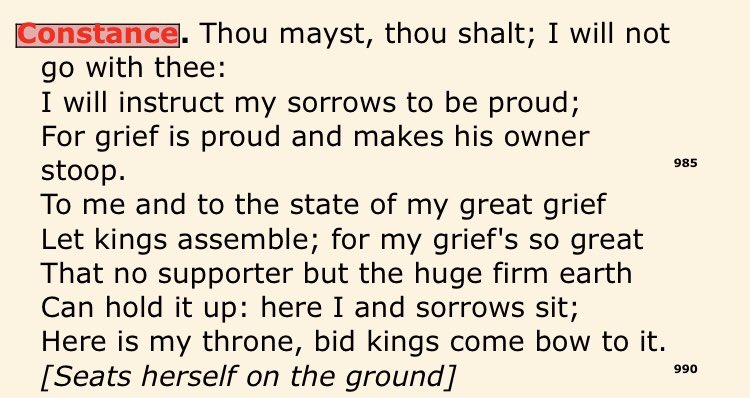 Question 10 – A book that made you cry
Hm, none so far.  But if I had a heart I would have cried at Traveling in a Strange Land by David Park.
Question 11 – A book that made you happy
Rereading If We Were Villains was probably the most fun reading experience I've had all year, in light of my own newfound Shakespeare thing.
Question 12 – Your favourite book to movie adaptation that you've seen this year
Lady Macbeth, directed by William Oldroyd and starring Florence Pugh.  Contrary to popular belief this is not an adaptation of Macbeth – it's an adaptation of a Russian novella inspired by Macbeth; Lady Macbeth of the Mtsensk District by Nikolai Leskov.  I haven't read the novella in question, though I'd like to; but I was really blown away by the film (despite some questionable racial optics…).
Question 13 – Favourite book post you've done this year
My Project Shakespeare wrap ups, probably: one, two, three, four.
Question 14 – The most beautiful book you have bought/received this year
Daughter from the Dark by Marina & Sergey Dyachenko, translated by Julia Hersey.
Question 15 – What are some books you need to read by the end of the year
Other than the rest of Shakespeare's plays?  Hopefully A Thousand Ships by Natalie Haynes and the Cromwell trilogy by Hillary Mantel to round out my (shitty) Women's Prize reading for the year.